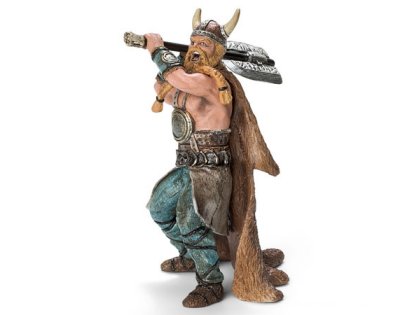 The Wild Viking



The Mysterious Ninja



The Invicible Spartan
Schleich Heroes

The new Schleich Heroes are ready. They're strong, they're brave and remarkable. The new heroes are ready to experience new adventures with you every day. Our New Heroes are outstanding fighters from different cultures. They gather to form a group of the Chosen in order to fight side by side for Good. From the Fearless Roman soldier who fought under the command of Julius Caesar, to the Invincible Spartan from Ancient Greece.

The Honorable Samurai
The honourable Samurai is a master of Asian martial arts. With his two swords, he is incredibly dangerous for any opponent and nearly unbeatable.

The Wild Viking
The Wild Viking wields an enormous double axe. This red-bearded warrior with a typical Viking helmet is always ready to take on any challengers, even more than one at a time. His throaty laugh resounds over the sounds of battle. A Viking knows no fear.

The Respected Eqyptian
The respected Egyptian fights for the honour of his pharaoh and his friends. His lance looks like a simple weapon but he handles it masterfully. No opponent dares to come closer than 7 steps away. Should someone still attempt it, he'll get a bitter taste of the Egyptian's fighting skills.

The Fearless Roman
In days gone by, the Roman soldier fought under the command of Julius Caesar. He took his place among the troops to fight against the Celts. He swung his sword high over his head and held his shield in front of him in defence.

The Invicible Spartan
A courageous soldier from Ancient Greece, he has been training in the best army around since he was a seven, being taught retreat is never allowed. His spear is pulled back, pointing towards the enemy ready to throw.

The Feared Warrior from the North
A warrior famous for his fierce fighting ability, he and his friends from the North spread fear throughout the world of Schleich, they have been vigorously trained from a young age to defend their precious land.

The Proud African
Having to survive on the African plain has helped this warrior develop many fighting skills, he is quick and very skilful with his spear, he has lots of practice through hunting for food.

The Mysterious Ninja
This outstanding fighter from Japan is well disguised in his black attire, holding a sword in each hand he is ready to attack; he uses his speed and agility to confuse the enemy.

Thracian
The Thracian is a classic gladiator who looks almost undefeatable with his closed helmet, arm and leg pieces and a shield and short' sword in his hand.

Iberian
The Iberian only wears light armour on his body, making him incredibly fast and agile. With his two swords, he is a skilled and very dangerous opponent.

Retiarius
The Retarius fights with a trident and net, thus perpetuating the ancient art of battle of the gladiators. He knows no fear and has yet to lose a battle.

Secutor
The Secutor is still undefeated. With his large shield and closed helmet, he is almost perfectly protected. He attacks so fast that his opponents hardly have time to defend themselves.

Gladiator with Hyena
Assured of victory, this heavily armed gladiator charges into battle. His most deadly weapon is no doubt his hyena baring its teeth dangerously.

Gladiator with Battle Rhinoceros
No adversary approaches the heavily armoured battle rhinoceros lightly since it is so wild and powerful that only its experienced rider can lead it. It teems with power and aggressiveness and there is room for two additional gladiators on the battle chariot. A nearly undefeatable steed.

Fighter Elephant
This enormous elephant is dressed in dangerous battle gear with metal spikes on his head, tusks and legs; he is ready to charge forward into the battle scene. His brave rider carries a sword on his back and a spear in his hand in anticipation of any Hero who dares to take the pair on.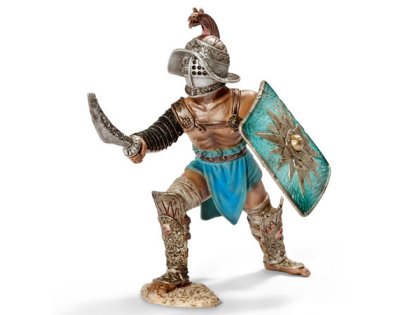 Thracian



Retiarius



Gladiator with Battle Rhinoceros